About Us :
The state institute is spread into approximate 3 Acres of land in the heart of the city. It has a splendid building with special school as well as residential facilities for CWSN. Spacious Hostels for boys & Girls separately, well ventilated class rooms equipped with appropriate TLMs, disabled friendly toilets, lecture halls, one auditorium, common rooms, reception counter, visitors lobby, ample parking place, Library equipped with professional reference books & Journals, periodicals and spacious play grounds, canteen facilities etc. all these infrastructural facilities are available within the campus. Our building is completely barrier free for PWD. We have a separate administrative block in order to facilitate administrative works.
Special School :

The special school has been started in July, 2008 as a model school in the state of Haryana to cater the needs of CWSN. Special Education Programme, Vocational Training & other skill related activities are imparted by the qualified special educators & rehabilitation professionals. Well ventilated classrooms equipped with appropriate TLMs facilitate the learning process of CWSN under the supervision of qualified educators. Special school also serves as a laboratory for the training programmes of human resource development in the field of special education & disability rehabilitation.
At present, the strength of special school is 125, however admission process for wait listed candidates are also going on. Parents Teacher meeting is regularly organized in the 1st week of every month to discuss the relevant issues with parents.
Human Resource Development :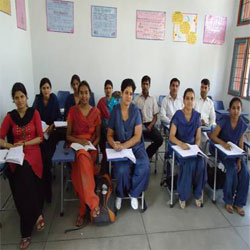 Human Resource Development programme is also one of the objectives of Institute. During the academic session 2009-10, we have started the full time B.Ed. (Special Education - MR) programme, recognized by the R.C.I. New Delhi & affiliation with MD University, Rohtak. The second batch of B.Ed. (Special Education- MR) programme for the current academic session i.e.2010-11 will be commenced soon for which recognition from the RCI, New Delhi, has already been obtained.
Post Graduate Diploma in Rehabilitation Psychology of one year duration is already commenced from the academic session 2010-11 with an Intake of 10 student- trainees for which necessary approvals from the RCI New Delhi & M D University Rohtak both are ontained.
In addition to these, Foundation Course in inclusive education for in service teachers of three months duration under IGNOU & RCI, New Delhi is also operational at our institute from this session in order to develop trained man power at grass root level in the field of disability.
Details of ongoing Training programmes :
Post Graduate Diploma in Rehabilitation Psychology - -2010-2011-intake 10
B.Ed Special Education (Mental Retardation) - -2010-2011-intake 25
Foundation Course in inclusive education for in service teachers - -2010-2011-intake 40
Details of proposed Training programme :
( to be conducted at our institute)
Post Graduate Diploma in Rehabilitation Psychology (Through Distance Mode)
Diploma in Early Childhood special Education
Diploma in Education (Special Education-MR.)
B.Ed (Special Education-MR) - through Distance mode programme
Short term training Programme :
Short term training programmes for parents, school teachers, community workers, and other stake holders for creating awareness and as well as orientation regarding issues related to the disability rehabilitation are also organized from time to time.